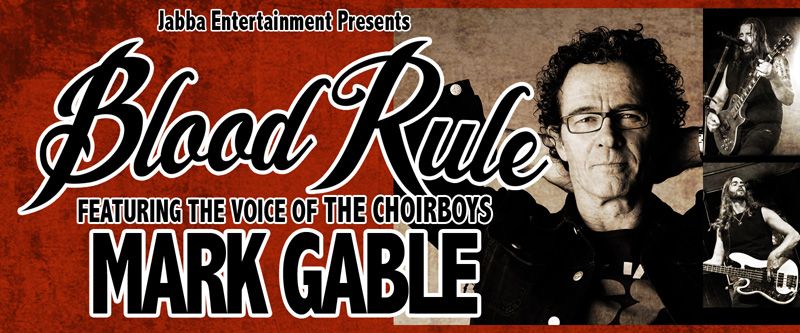 Jabba Entertainment presents 'A Night in Paradise'- a spectacular night of raw rock 'n' roll performed by one of Australia's Premier bands, Blood Rule.Special guest vocalist and frontman is Oz Rock Legend, Mark Gable from the The Choirboys and the incredible voice behind Oz Rock hits: 'Run to Paradise', 'Boys Will Be Boys' and 'Never Gonna Die'.
'A Night in Paradise'is a unique production of Anthems from the 80's and 90's played with passion and intensity. Audiences Rock! Quintessential Australian pub-rock classics from artists including AC/DC, The Angels, Rose Tattoo, and Stevie Wright are belted out throughout the show. And of course, the greatest hits of The Choirboys, including Australia's unofficial anthem, 'Run to Paradise', complete this 'must-see' show.
Mark Gable is without doubt a consummate professional with skills and experience gleaned from thousands of live shows and close on 40 years in the entertainment industry. With his remarkable voice, Mark is the front man and a founding member of the Australian rock band, The Choirboys. The band has sold multi-platinum albums with 'Run To Paradise' becoming one of the highest selling singles of the 80's.
Blood Ruleis a juggernaut of Boogie, Blues and Southern Rock originals. These guys are Rock 'n' Roll veterans having spent the last two decades playing sweat-soaked pub rock and opening many shows with Australia's leading bands and International acts. This band is the natural evolutionary step for the brothers Ward and Sol Freeman - founding members of Jabba Entertainment which encompasses their Blood Ruleoriginals plus world-class concept shows and specialty acts such as Angry Anderson & The Driving Conditions. 
Come on out for 'A Night in Paradise'and rock out to some of the greatest rock 'n' roll ever made. 
Not to be missed!