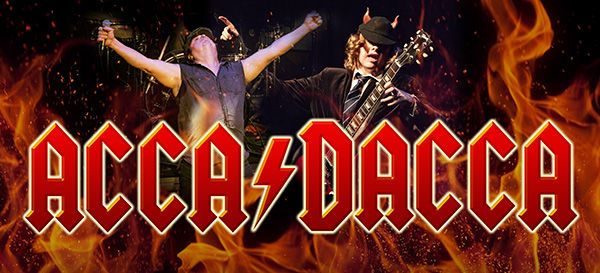 "IF YOU CANT SEE US, SEE ACCA/DACCA!" 
Quote From Angus Young Himself
Presenting the World's Premier AC/DC Show
"ACCA DACCA"
ACCA DACCA is AC/DC Reborn!! Not a tribute - Not a cover band - This is a full blown SHOW!
Cannon's, Bells, Bagpipes, Bon and Brian!
ACCA DACCA take to the stage for a massive 2 hour plus set covering from 1974 to the present day.
This show is huge!!!!! Only surpassed by the great AC/DC Themselves!
ACCA DACCA recently toured through Salvia , France, Prague, Czech Republic, Lithuania, and Ireland, playing to crowds of 5,000 plus head banging, sweat drenched, raging punters. 
Past tours have seen ACCA DACCA travel the world including Indonesia, Ireland, England, Spain, Israel, Germany, Finland, Netherlands and more!
2020 will be starting with a West Coast American tour starting in Texas 'Yeah' Texas!
Making ACCA DACCA The Worlds Biggest AC/DC show
SEEING IS BELIEVING!!!
The Show features the stand out 19 year old prodigy Jesse Attard as ANGUS. ACCA/DACCA has a schoolboy playing a schoolboy! Jesse is phenomenal and is set to be one of Australia's hottest guitarists.
DON'T MISS EM , ACCA DACCA ROCK!!!
What will you take home from a night with ACCA DACCA?
Just the feeling, along with the memory that you've just witnessed AC/DC. Not only at present but the AC/DC of the Bon Scott era as well.
ACCA DACCA IS A MONSTER OF A SHOW!! 
SEE FOR YOURSELF